CÁC BỘ TIÊU CHUẨN KỸ THUẬT QUỐC TẾ - INTERNATIONAL STANDARD
Giới thiệu các Bộ tiêu chuẩn kỹ thuật quốc tế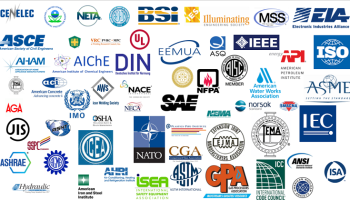 CÁC BỘ TIÊU CHUẨN KỸ THUẬT QUỐC TẾ - INTERNATIONAL STANDARDS
1. API standards - API's American National Standards Institute
API was formed in 1919 as a standards-setting organization and is the global leader in convening subject matter experts across segments to establish, maintain, and distribute consensus standards for the oil and gas industry. In its first 100 years, API has developed more than 800 standards to enhance operational safety, environmental protection and sustainability across the industry, especially through these standards being adopted globally.
API standards are developed under API's American National Standards Institute accredited process, ensuring that the API standards are recognized not only for their technical rigor but also their third-party accreditation which facilitates acceptance by state, federal, and increasingly international regulators.
Since 1924, the American Petroleum Institute has been a cornerstone in establishing and maintaining standards for the worldwide oil and natural gas industry. Our work helps the industry invent and manufacture superior products consistently, provide critical services, ensure fairness in the marketplace for businesses and consumers alike, and promotes the acceptance of products and practices by industry and governments globally as outlined in the new API Standards: International Usage and Deployment.
2. ISO (International Organization for Standardization)
ISO (International Organization for Standardization) is an independent, non-governmental international organization with a membership of 168 national standards bodies
Through its members, it brings together experts to share knowledge and develop voluntary, consensus-based, market relevant International Standards that support innovation and provide solutions to global challenges.
You'll find our Central Secretariat in Geneva, Switzerland. Learn more about our structure and how we are governed.
3. ASTM International standards
Over 12,000 ASTM standards operate globally. Defined and set by us, they improve the lives of millions every day. Combined with our innovative business services, they enhance performance and help everyone have confidence in the things they buy and use.
Committed to serving global societal needs, ASTM International positively impacts public health and safety, consumer confidence, and overall quality of life. We integrate consensus standards – developed with our international membership of volunteer technical experts – and innovative services to improve lives... helping our world work better.
More than 30,000 people from 150 countries create and update standards through ASTM International, one of the world's most respected standards development organizations.
The high quality of ASTM International standards is driven by the expertise and judgment of members who represent industry, governments, academia, trade groups, consumers, and others. Their contributions are why ASTM International standards are known for high quality and market relevance across many industries (see p. 10).
About 150 committees (with over 2,000 subcommittees) meet face-to-face and virtually, using tools like electronic balloting and online collaboration areas, to develop standards. ASTM International publishes those standards shortly thereafter.
Along with in-person committee meetings, ASTM International also offers symposia and workshops that provide unique opportunities for members and others to exchange new ideas and knowledge in their fields.